Congratulations to our Insurance Business Canada Rising Star Award Winners
September 22, 2022
Categories: Announcements
Liberty Mutual Canada is pleased to announce that Adam Shibuya, Alex Dubé Lorrain and Parin Meehallage have been named recipients of Insurance Business Canada's Rising Stars Award. This award is given to individuals aged 35 and under who have committed to a career in insurance with a clear passion for the industry. Nominees were selected based on their current role in the insurance industry, their key achievements, career goals and the contributions they've made to shaping the industry.
About the winners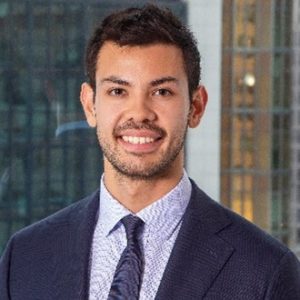 Adam Shibuya, Senior Underwriting Specialist, Financial & Professional Services
After working as a Chartered Professional Accountant, Adam began his insurance career at Liberty Mutual Canada in 2019 as an Underwriter. Since joining, he has continuously surpassed key business objectives to drive profitable growth within his targeted lines of business. Adam handles one of the largest portfolios of existing and prospective business within the team, and is often commended for his exceptional service, despite very turbulent market conditions.
To broaden his technical skills and scope, he expanded his Management Liability role to include acting subject matter expert for both Kidnap and Ransom and Employment Practices Liability. These highly technical roles have allowed Adam to continue to learn and apply his knowledge to enhance our product suite and improve our underwriting strategy. He routinely attends educational seminars hosted by the Professional Liability Underwriting Society to enhance his market and product knowledge and bring this knowledge back to Liberty.
To supplement his leadership skills, Adam has taken on the oversight of Liberty Mutual Canada's Underwriting Co-op Program for Financial and Professional Services within Ontario and Atlantic Region. He is responsible for recruiting, training, and developing of students who are new to the insurance industry. Adam has also recently joined Liberty's Social Responsibility Committee, where he helps ensure that we lead the industry in community engagement, social responsibility, philanthropy, and volunteerism.
Alexandra Dubé Lorrain, Assistant Vice President, Claims
Alex Dubé Lorrain started her career as a lawyer in private practice in Montreal, with a focus on insurance defense work, before joining our Claims team in 2016. Alex initially worked in the Montreal branch where she developed excellent and important relationships throughout the industry with brokers and clients. In the time since, Alex has relocated to Toronto and continued to develop strong technical Claims skills in all financial lines of business, D&O, E&O, Crime, Cyber, EPL, and surety. Alex has also embraced our Values to make things better by looking for new and creative ways of managing our business.
As a true leader, Alex is supportive, well respected, and eager to share expertise and collaborate across Liberty and the industry, arranging seminars on key legal and coverage issues for claims and underwriting. Most recently, Alex discussed D&O liability on a panel with the Canadian Corporate Counsel Association and the Ontario Bar Association. She has also completed the Leadership Learners Circle Program to further develop her leadership skills.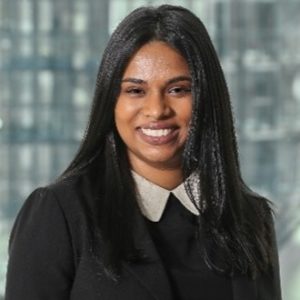 Parin Meehallage, Manager, Operations & Innovation
Parin started her career in the insurance industry in 2011 as an Account Technician supporting Underwriters in P&C and FPS lines of business. Parin joined Liberty in 2019 as an Underwriter, building long lasting broker relationships with key partners before transitioning to our Operations and Technology team. In this role, Parin was able to leverage her experience to ensure that her team maintained service levels and provided exceptional service to our broker partners and clients. Parin has been instrumental in driving the evolution of our Operations and Technology team forward, leading key initiatives to make it even easier for our brokers and clients to bind business with Liberty and improves the effectiveness of our internal processes.
Parin truly lives our values to make things better while always putting our people first. In 2022, Parin was appointed a Co-Chair of Liberty Mutual Canada's Diversity, Equity, & Inclusion Committee, building on her success leading previous DEI-centered events and initiatives.