Reduce construction supply chain risk with 4 key management strategies
July 1, 2021
Categories: Insights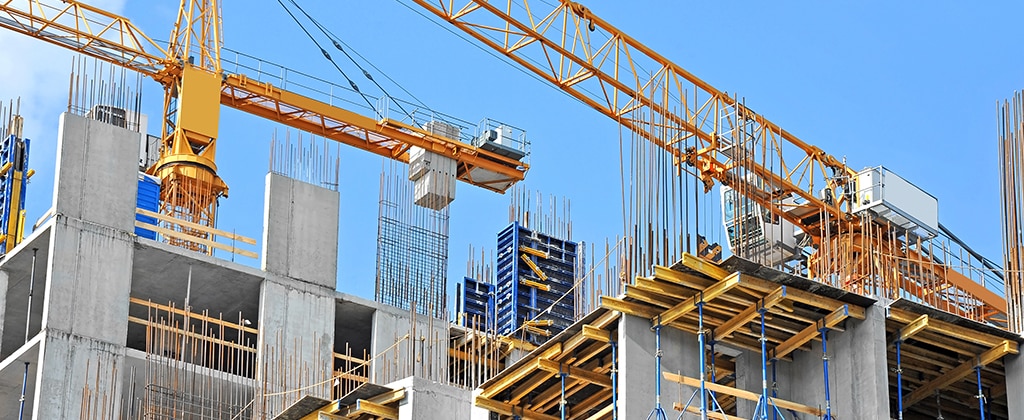 Supply chain risks are at an all-time high, and the way they are managed can have a significant impact on the success of a project and a construction firm's bottom line. Labour shortages, rising costs, and the pandemic are only a few of the challenges construction risk managers are facing. It's critical for construction businesses to understand trends in the marketplace as well as the strategies needed to mitigate these risks.
1. Plan for increased costs for materials and labour
The COVID-19 pandemic triggered renewed interest in home renovation and enhancements, causing a run on materials. A look at lumber alone tells the story: according to Statistics Canada, softwood lumber prices rose by 119 percent in Canada between March 31, 2020, and March 31, 2021.
At the same time, the need for work crews to stay socially distant has slowed progress and increased costs. Straightforward tasks, like unloading materials or scheduling subcontractors, are now complex. There are rules to implement and follow, space to maintain, and personal protective equipment (PPE) to purchase or install. Every task takes longer. Plus, these new regulations take time and money to implement and enforce–resulting in higher labour costs.
"In addition to the challenges faced by work crews, in the event of a claim, certain materials and specialized construction equipment may take longer and can be more expensive to source, especially those sourced overseas," says Ben Hunter, Vice President, Marine, Energy, Construction, and Risk Services for Liberty Mutual Canada.
Action steps:
Factor in increased costs for materials and labour when determining limits of insurance for each construction project
Periodically review the limits purchased for each construction project, and adjust via endorsement if these originally incepted limits are insufficient
Be prepared for theft of materials as their value grows. Store them in secure areas with protection from security systems and guards
2. Be intentional about automated risk monitoring
When elements of a client's supply chain dot the globe, it can be challenging to keep their arms around every wrinkle and threat. That's even more true in an industry where threats come in many forms, from a pandemic that shuts down critical ports to severe weather that damages promised goods or a crippling cyberattack.
Building information management software and workforce management software, in the form of mobile technology, can help firms boost efficiency and make predictions to stay ahead of problems in sourcing, procurement, and logistics. And even though the pandemic spurred wider use of these tools, automated risk monitoring isn't just plug and play.
"Without thoughtful implementation of project management software, projects can fall out of sequence, given the supply chain challenges that the construction industry is currently facing," says Hunter.
Action steps:
Finding, testing, and setting up analytic software is just the start. For accurate and timely reporting:
Take time to establish systems and processes for every partner in your network to adopt
Allow time for training to make sure everyone has the same understanding
3. Analyze every contract thoroughly
Carefully reviewing contracts is a critical part of managing supply chain risk. By scrutinizing each one with an eye to the challenges brought on by the pandemic, contractors can add protective contingencies that hedge against cancellations and delays.
"As an example, if a subcontractor has more limited insurance coverage as a result of the pandemic and the hard market, risk managers can identify these soft areas and add contingencies for protection against liability," says Hunter.
Action steps:
Every construction project is unique. Every contract should be, too. Before signing, identify and consider every area of potential risk, from environmental concerns to changes in subcontractor policies. Each contract should be reviewed with special attention to:
The assessment of counterparty risk
The delineation of responsibilities
A clear outline of potential delays
A partner contingency plan
4. Prioritize communication
"Although always important, effective communication with shareholders, stakeholders, and employees is more critical now than ever to ensure strong working relationships across projects, helping to minimize supply chain threats," says Hunter.
Clear messages help maintain business continuity and help various parties mitigate professional risk, especially as it relates to directors' and officers' liability, employment practices liability, and fiduciary liability insurance.
Action steps:
Share the protocols and procedures put in place to protect employees and shareholders from COVID-19
Have employee safety manuals easily available for all employees, with a requirement they be reviewed on at least an annual basis
Maintain frequent contact with suppliers regarding quantities and pricing levels, to avoid material shortages and to minimize delays
With these proactive strategies in place, construction risk managers can protect projects from both immediate concerns and future liability, all while maintaining strong relationships throughout the supply chain.
Liberty Mutual Canada™ is the registered business name under which the Canadian branch of the Liberty Mutual Insurance Company operates in Canada. This literature is a summary only and does not include all terms, conditions, or exclusions of the coverage described. Please refer to the actual policy language for complete details of coverage and exclusions.