Keeley Wylie, Liberty Mutual Canada's Marine National Practice Leader has been appointed President of The Canadian Board of Marine Underwriters
August 15, 2022
Categories: Announcements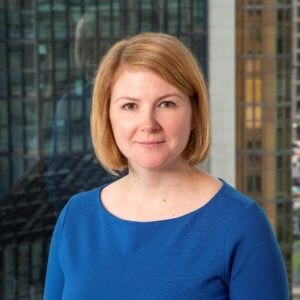 Liberty Mutual Canada is pleased to announce that Keeley Wylie, National Practice Leader, Marine, has been appointed President of The Canadian Board of Marine Underwriters (CBMU).
Founded in 1917, the CBMU is an active force in the representation of the goals and interest of the Marine Insurance Industry in Canada. As one of the country's oldest associations, the CBMU has a close relationship with the federal government and with the Canadian Maritime Law Association. These relationships enable the association to comment on proposed changes to legislation that affect the marine industry
"This is a fantastic accomplishment, and a testament to Keeley's hard work, professionalism, and expertise within the Canadian insurance industry," says David Barry, SVP, Head of Industry & National Solutions. "We are incredibly fortunate to have someone as accomplished as Keeley on our team, leading our charge within the Marine space and giving back to the industry in her role as President of CBMU."
Keeley has been an active member of the CBMU since 2019, and after being nominated by her peers on the CBMU, also became a member of the International Union of Marine Insurance (IUMI) Legal and Liability committee in December 2020.
Liberty Marine has underwriters in Toronto and Montreal and writes Cargo, Project Cargo & Delay in Start-Up, Primary & Excess Marine Liabilities and Hull & Machinery and Protection & Indemnity.
Liberty Mutual Canada offers a broad suite of commercial insurance products and solutions to midsize and large Canadian companies with Canadian, North American and/or multinational risks. It is headquartered in Toronto, and has regional offices in Montreal, Calgary, Edmonton and Vancouver.
About Liberty Mutual Insurance

At Liberty Mutual, we believe progress happens when people feel secure. By providing protection for the unexpected and delivering it with care, we help people embrace today and confidently pursue tomorrow.
In business since 1912, and headquartered in Boston, today we are the sixth largest global property and casualty insurer based on 2020 gross written premium. We also rank 71st on the Fortune 100 list of largest corporations in the U.S. based on 2020 revenue. As of December 31, 2021, we had $48.2 billion in annual consolidated revenue.
We employ over 45,000 people in 29 countries and economies around the world. We offer a wide range of insurance products and services, including personal automobile, homeowners, specialty lines, reinsurance, commercial multiple-peril, workers compensation, commercial automobile, general liability, surety, and commercial property. For more information, visit www.libertymutualinsurance.com.
Contacts:
Darya Eshaghi
647-288-6416
Darya.Eshaghi@libertymutual.com